Why not... Sing in the Car!
Posted by

david

on 19 Jul 2013 in info
It's holiday / vacation time, and you're going to be spending some time driving around with the whole family in the car. Sometimes the kids will be tired and a bit grumpy, other times they'll just get a little bored...

Why not take off your Beatles / Lady Gaga / Pink Floyd CD, and instead put on a CD of some Christian Children's Songs? Change your iThing playlist from "Dad's Faves" to "Kids Fun"!
Within no time your children will know the songs off by heart, and they'll love singing along. And all the time you'll be helping them to know and love our Lord Jesus Christ more.
Ah - of course, that'll only happen if they're decent songs! That's where "Maynard's Groovy Bible Tunes" comes in - OK, the recordings are amateur, but they're pretty good, and the songs are full of great Bible verses and themes.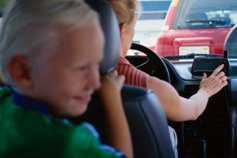 Have a listen for yourself on the website - you'll find a jukebox-style player where you can try out all the songs, and see the lyrics and actions / motions - www.mgbt.co.uk/jukebox
Hint - listen with your children!
Once you know which ones you like, go to the store, and you can buy them on CDs, or as Album or Individual downloads.
Hope that helps you to enjoy your vacation driving!
This entry was posted by
David
and filed under
info
.