Singing Children's Songs in Church
Posted by

david

on 29 Aug 2011 in info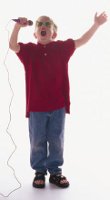 Do you sing Children's songs at your church? No - I mean, in the main service, when everyone's all together?
I'm always amazed how few churches make a real effort to include their children in their main service. Often the kids are in for the first 10 minutes, when they're only really engaged with during the "kids slot", and then they're kicked out to Sunday Club.
Don't get me wrong - the Sunday Club is vital, so that children can be taught the Bible in a way that's relevant for them; but for those few minutes when children are with us in the main meeting, we need to make more effort to include them, and engage with them (as well as everyone else).
There are all sorts of ways of doing this - and one important way is to sing a children's song (or two) as a congregational song, with actions!
First of all, why sing a kids' song?
Because the children are an important part of the church, and they (and the adults) need to know it, and we (as a church) need to express it. Good children's songs are great to sing together - they can help us to express Bible truths clearly in praise, just as good adults' songs can. We expect the children to bear with us as we sing our grown-up songs, so we can bear with them and sing one of their songs. As a great by-product, when you sing a children's song, any visitors with children will be delighted to see that kids matter in your church, that you're bothered about their children, just as they are.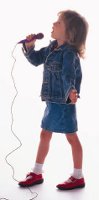 Secondly, why do actions? Don't be ashamed of the actions (some people call them "motions") to the songs. They give younger kids a way of expressing (and remembering) the words and meaning of the song. I always introduce the actions with a cop-out clause for any reticent adults, but I make sure that I'm not diminishing the actions in any way.
An important "trick" for anyone leading the actions from up-front is this: if you feel embarrassed or inhibited at all, don't show it in any way!! The slightest hint of embarrassment or excuse-making is immediately obvious, and backfires completely. You might think that a little negative comment demonstrates that "you're really a sensible adult, and far above this sort of thing, but you're doing it as a good turn for the kids, aren't you good" - but in fact it just reinforces the idea that kids aren't important. Instead, be bold, be brave, stand up straight and go for it. Who knows, you could just end up having a lot of fun?!
It's also important for the main church leader to be involved in positively introducing the children's song. Often the main leader will give the impression that children's work is not as important as adult's ministry. This happens in all sorts of ways - like handing over to a children's minister for the kids' song, and going to sit down and hide behind a pillar, with hands thrust very obviously into pockets. OK, you've got a children's minister and you want to use him/her, but the message you're giving is: "Now we'll put up with the kids for a bit before we get onto the important stuff". You don't really think that, do you? So don't show it, however inadvertently, in what you do. Get positive, get involved.
Singing a Children's song (or two) as part of your main service can be a really helpful way of including the children, and showing everyone that you all matter, however young or old. If you're not doing it already, you'll need to introduce it carefully, with prayer and wisdom, but don't wait too long - do it soon!